2020 Fanvil Global Case Study Competition with Big Prizes is Ongoing
Time: the 2020-05-13 Editor: fanvil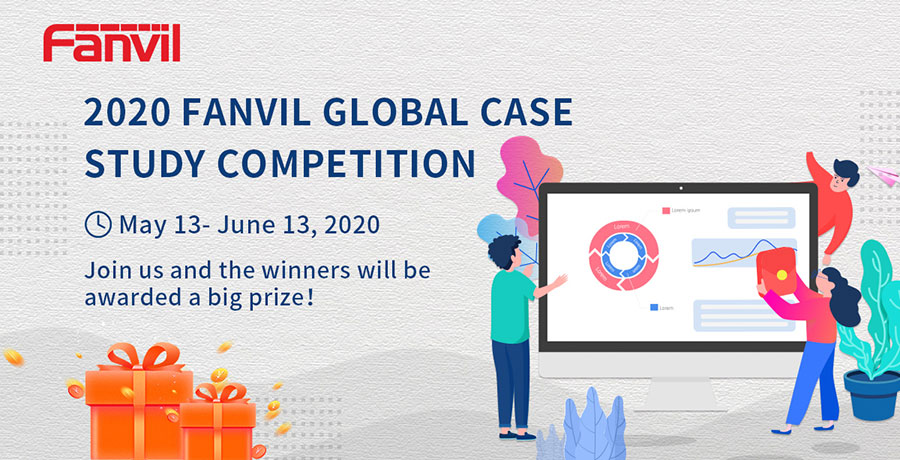 Shenzhen, China – May 13, 2020 - Fanvil, the professional developer and manufacturer of enterprise VoIP communication products globally, announces today the initiation of Fanvil Case Study Competition for all partners with big prizes.

Due to the diversity and powerful functions of Fanvil products, nowadays they have been applied in many kinds of domains, such as education, traffic system, medical, residence, hotel, etc. Fanvil provides tons of corresponding solutions for concrete application scenarios. That is also why Fanvil receives many thumbs-up from clients all over the world.

As one of our reliable partners, you are warmly welcome to present the case study that elaborates on how Fanvil products and solutions meet our clients' needs seamlessly and efficiently. After evaluation, Fanvil will public the winning cases and contact the submitters to send out our big prizes.

Key Dates
a.Case Study Submission: May 13-June 13, 2020
b.Review: June 13-June 20, 2020
c.Winners chosen and Prizes announced: June 21, 2020

Submission Format
Click and download the

template

to participate.

Prizes
1st place (quantity: 1): $200 Gift Card or equivalent prize
2nd place (quantity: 2): $150 Gift Card or equivalent prize
3rd place (quantity: 3): $100 Gift Card or equivalent prize
Other submitters of excellent complete cases (exclude the above three prizes) will all receive an exquisite gift.

How to Apply
Your submission including the case study, photo, topological graph must be submitted to pr@fanvil.com no later than June 13.


About Fanvil
Founded in 2002, Fanvil Technology Co., Ltd. is a professional VoIP product developer and manufacturer globally, who provides VoIP communication devices and solutions for small and medium-sized businesses, as well as large mission-critical enterprise environments. Fanvil is focusing on meeting our customer's communication technology needs while exceeding their expectations in value and performance. Fanvil VoIP devices are always taking advantage of clear timbre, rich function, excellent quality, perfect service and competitive price.
Returns Of >
Copyright © 2020 azimuth communications Fanvil Technology Co., Ltd. All rights reserved technical support:
Fang Wei
website construction