Welcome to Meet Fanvil New Website
Optimize our Service with a Brand-New Look
Shenzhen, China–May 24, 2022-Fanvil, a leading global Audio & Video -IoT device provider, is thrilled to announce the launch of its new website at www.fanvil.com! With more intuitive, user-friendly pages and navigations, we are dedicated to delivering you a better service experience.
What's NEW on our website?
Our new website features a user-friendly design and clearer navigations to help users search for essential and accurate information quickly and effectively.
Clear Product Portfolios
As a leading global A&V-IoT device provider, Fanvil provides two product portfolios for our customers. Therefore, you are able to find out Fanvil's products SIP Phones and SIP Security Industry Products including Door Phones, Intercom, Indoor stations, and Paging Gateway.
Success Stories Share
Fanvil's business has been reached out in 130+ countries and regions for 20 years. For your reference, we have shared multiple success Fanvil stories on the Page of Case Study. Of course, you can also sign up for our weekly newsletter.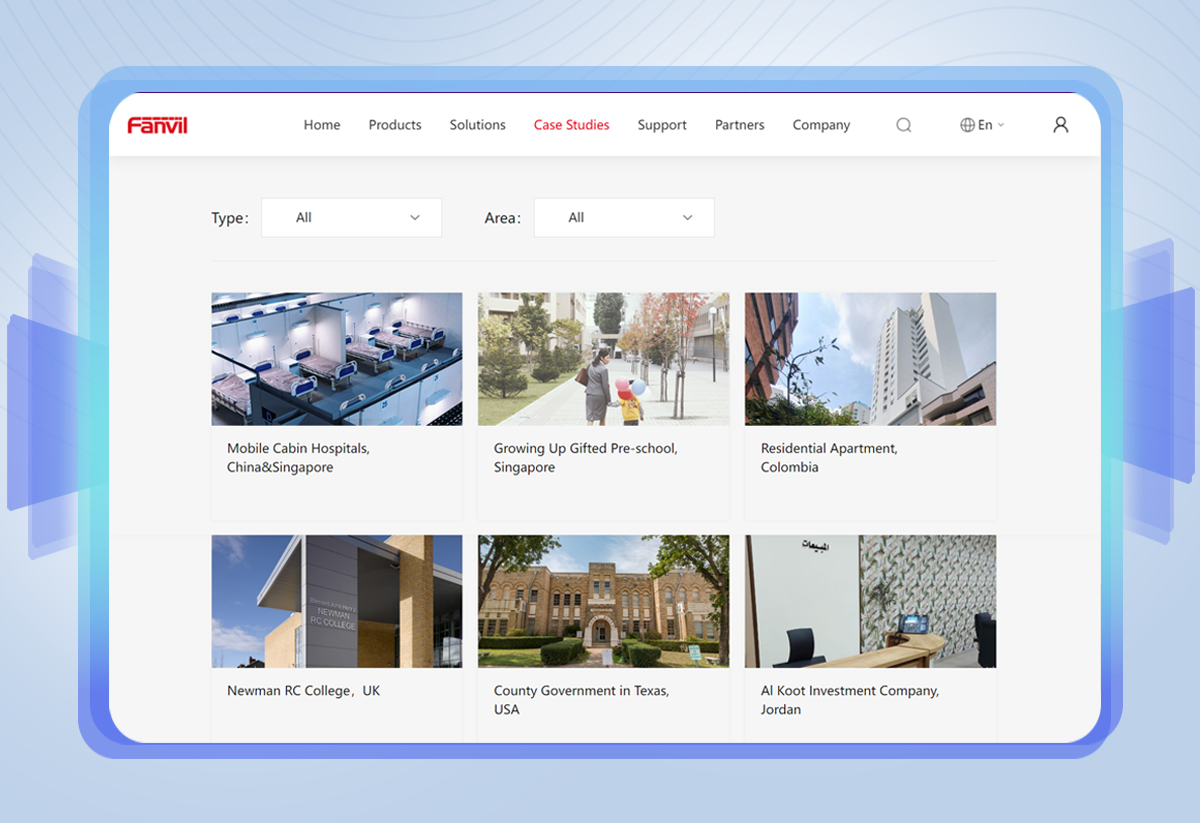 Reliable Support Portal
Among the new features, the website contains an essential page of Support Portal , which is easier for our customers to download Fanvil materials and ask for technical help.
Please register to find out more information on HERE. For the partners who already have registration account, please log in directly on HERE.
About Fanvil
Fanvil Technology Co., Ltd. (Fanvil) is a leading global provider of A&V-IoT devices. With three R&D centers in Beijing, Shenzhen, and Suzhou, China, Fanvil has compiled an effective team of R&D, production, sales, and service staff to innovate and add value to our business partners. As the pioneer in applying SIP and Audio & Video technologies to build A&V-IoT, Fanvil is boosting the digital transformation of multiple industries.
Adhering to the core values of Efficient, Team Work, Integrity, Positive and Enterprising, Fanvil is committed to providing high-quality A&V-IoT devices, and building an intelligent world of infinite communication.
For more information, please stay tuned with us on